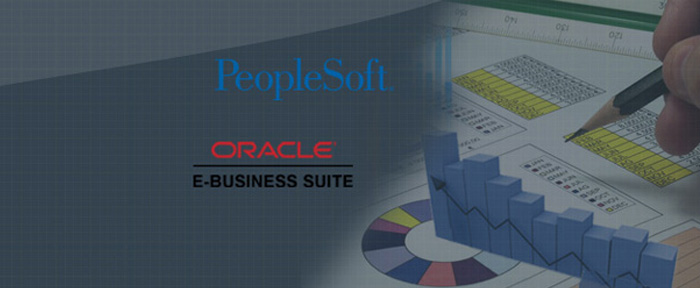 Forward-thinking CFOs, HR Directors, and Inventory Control Executives are continually searching for better ways to understand how their units are performing; they seek solutions to help them make more informed decisions and envisage the impact of those decisions.
Users of PeopleSoft and Oracle e-Business Suite know their data holds tremendous potential for rich visualization of their departments' operation, and many organizations have invested in a range of powerful analytics engines – Business Intelligence (BI) tools – that can yield extremely valuable insights.
But very few organizations have sufficient knowledge of both these tools and the PeopleSoft/e-Business data structures to fully exploit their benefit.
UniMind can help you extract maximum value from both your data and your tools. With UniMind, you can drive accountability for profitability down to the line by pushing out the information that line managers need to run their organizations in the most effective and profitable manner possible.
BI tools provide a prescriptive view of high-impact decisions, identify obstacles and opportunities, and provide interpretative guidance on business trends and financial implications, while UniMind's data warehousing services ensure that financial rigor and regulatory compliance are consistently applied across the company – all while satisfying demands to meet or exceed quarterly performance targets.
Some of the areas that UniMind has helped organizations realize greater value include:
Financials:
• Cost and Profitability Analysis: Use PeopleSoft Activity-Based Management to analyze the true costs associated with value-added and non-value-added business activities
• Planning and Budgeting: Use PeopleSoft Planning and Budgeting to enable simultaneous top-down target setting and bottom-up budget preparation
• Financial Control and Reporting: Use PeopleSoft Global Consolidations to bring together financial data from disparate sources to create a single, global view of financial information across the entire enterprise
• Aligning Operations with Corporate Strategy: Use PeopleSoft Scorecard to continuously assess operational performance based on key performance indicators and historical trends
Human Resources:
UniMind can integrate critical data from across the enterprise value chain by transforming silos of information into relevant, timely, and actionable insight.
• Workforce
• Payroll
• Recruitment
• Absence Management
• Learning Management
Supply Chain Management:
UniMind will get the most out of your Oracle Value Chain Planning – a complete, best-in-class solution that gives organizations the insights and tools needed to accurately predict demand and supply, align global operations, and achieve profitable revenue growth through a range of best-in-class processes including:
• Demand sensing and shaping for profitability
• Event-driven scenario simulation
• Integrated Business Planning
• Multi-ERP, multi-enterprise planning and collaboration
• Comprehensive trade promotions management
Call UniMind today to learn more.
Our Services
Enterprise Applications
---
UniMind is driven to deliver outstanding e-Business/PeopleSoft implementations, upgrades, support and enhancements. The deep experience of our consultants enables this goal, allowing our clients to experience immediate gains.
More Info
PMO and IV&V Services
---
Enterprise wide software implementations have unique and complex challenges. A strong Project Management Office with thorough knowledge of these challenges is critical for success.
UniMind PMO and IV&V services can help you setup a functioning PMO office, provide Independent Verification and Validation to ensure that your software solution fits the requirements of the business and ensure organizational goals are achieved.
More Info
E-Learning
---
UniMind eLearning turns your workforce into a unified team working together to execute your vision. Thru focused multi-media presentations, eLearning lets you share information with targeted internal and external audiences, while testing their comprehension to ensure your message was received.
More Info